Must-have gifts
I'm all about color, texture and shape. This year my favorite gifts for the holidays involve all three of my favorite things. Here are five awesome picks for girls like me.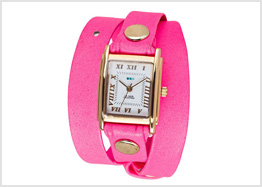 Neon pink wrap watch ($88)
La Mer's shocking pink wrap watch with silver rivet detail and buckle closure is the perfect watch to kick off the New Year with and bust the winter blues. I am a big fan of having a pop of color with any outfit. Bright pink is the new neutral, right?
Available at Swell.com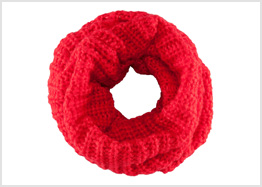 Cheery red tube scarf ($10)
Stay cozy and festive at the same time with this rib-knit tube scarf from H&M. Tube scarves are my favorite because they have all the benefits of a regular scarf without the fussiness of the extra fabric. If you're like me, you're always dipping that extra fringe in your coffee anyway. I like to skip the clean-up routine and keep it streamlined. I'll be buying this scarf in every color.
Available at H&M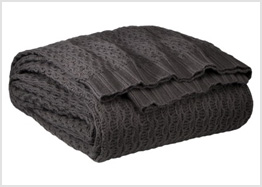 Cozy gray cotton blanket ($45-$65)
I'm loving everything gray these days. And I'm obsessed with layering textiles. So this TargetHome cotton blanket in charcoal gray is the perfect addition to my bedding because not only is it the perfect color, it also adds extra visual interest with the cable knit pattern. It doesn't hurt that it's cozy, to boot.
Available at Target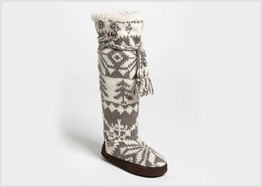 Muk Luks "Grace" slipper ($44)
Faux-fur topped Nordic weave knee height slipper with a tassel-tie.
Even though I now live in Phoenix, the land of mild winters, I still can't give up my love for everything snow-related. Call it childhood nostalgia. These faux-fur-topped slippers are perfect for me because I could wear them around the house with shorts and still feel like I'm getting bundled up, just like the old days back in Missouri. And when I do venture home, these will be amazing for keeping me toasty-warm.
Available at Nordstrom
"Today I Will" pillowcases ($34)
New Year, new day, new attitude. Sometimes we all need a reminder to enjoy the day and take it by storm. These pillowcase are a great way to start everyday on the right side of the bed. Plus, they're my favorite color right now — I just can't give up the gray.
Available at Urban Outfitters
More Editor's Picks
Gifts for the social media butterfly
Starworthy gifts for any season
Best entertainment gifts of the year
Sexy gifts for yourself
Best beauty buys
What mom really wants for Christmas
Foodie friendly gifts
Holiday gifts for the home
Presents fit to give
Tail-wagging gifts for pets
Adventure in a bag gift set