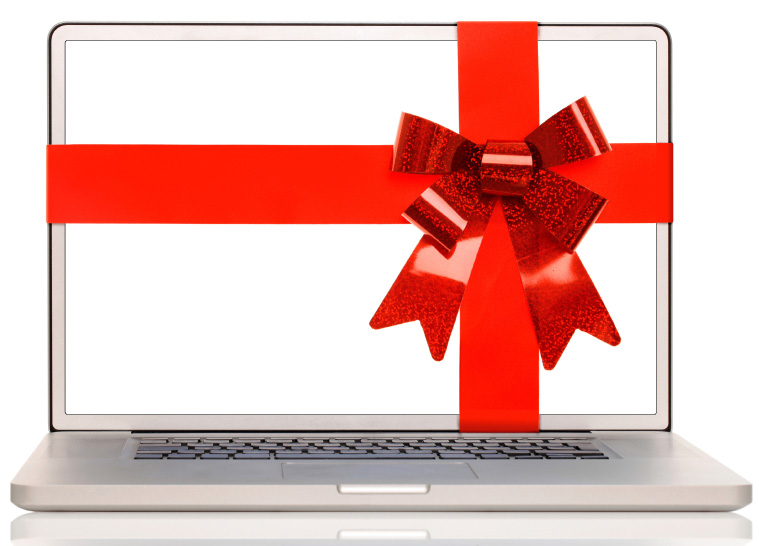 Cyber Monday
Get the
greatest gadgets
Electronics are by far the hottest items on sale this Cyber Monday. All the cool gadgets you covet throughout the year are more affordable during this online shopping extravaganza. Laptops are always on the top of the most wanted list, so this year we've collected the top eight laptop deals Cyber Monday has to offer.
1
ASUS business PC
If you've got business to take care of, the ASUS B43S-XH51 14-inch Business Notebook PC is the one you want. It's scratch-resistant so you can take it with you on all your travels without worrying about damage. Order yours on Cyber Monday from COMPUSA for $657, compared with the regular $900 price. It's a steal!
2
Samsung quad-core laptop
A trusted name in the laptop community, Samsung has great-quality laptops on sale this Cyber Monday. This Samsung 17.3 AMD Quad-Core 1TB HDD laptop is at the top of its class. It's got amazing memory space and a beautiful display. Get one Monday for $929 at Office Depot (regular price $1,010).
3
Lenovo notebook
One of the best deals we found on laptops is at OfficeMax. You can find a Lenovo G570 15.6-inch Notebook PC this Cyber Monday for only $450. The large screen makes it easy to see all your important documents at once or watch your favorite movie.
4
HP notebook
HP is an elite name in the PC world, and that's why we couldn't leave them out of the best Cyber Monday laptop deals. At Circuit City you can find the HP EliteBook 8560p 15.6 Laptop Computer for $860 compared with other stores charging $1,160. It's got an HD screen and you can burn your own DVD's and CDs — the perfect multiuse PC for the family.
5
Lenovo IdeaPad
Enjoy family movies and interactive games on this high definition Lenovo IdeaPad 14-inch Laptop. It offers plenty of memory space and a webcam for Skype sessions with all the family who can't make it to the holiday celebrations this year. Buy it at Best Buy for $520 this Cyber Monday (regular price $560).
6
Dell Latitude laptop computer
Take your business with you with the Dell Latitude E5420 Laptop Computer. It's built with durability, security and productivity in mind. If you're looking to upgrade your efficiency in the new year, this is definitely the way to go. Order online from Abt.com for $748 (compared with $820).
7
Sony VAIO series pink laptop computer
We just had to include this pink laptop from Sony. Not only is it the cutest laptop on the market, but at only 3.8 pounds, it's also lightweight enough to carry around with you all day. Throw in the long-lasting battery, and you've got a great deal on a laptop for only $850 this Cyber Monday.
8
Dell Inspiron 15
The Dell Inspiron 15 is the most dependable laptop to buy this Cyber Monday. It's dependable, durable and comes with a Microsoft Office starter kit so you'll be ready to work or play as soon as it arrives. Find your Dell Inspiron 15 for $554 at Dell.com.
More Cyber Monday deals
Top websites for Cyber Monday shopping information
Cyber Monday deals at Toys "R" Us
Walmart releases Cyber Monday preview