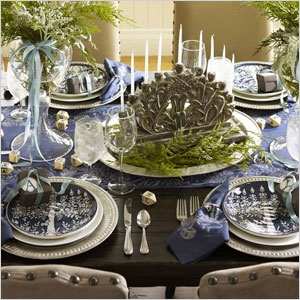 Pottery Barn
Pottery Barn offers decorations for every possible situation. And everything they have is beautiful. This year they've got a very impressive Hanukkah collection for a dining room table. Gather your family and friends around a striking collection of plates, napkins and dreidels to enjoy latkes and laughter. You can find their decorations online or at your local Pottery Barn. They've been slashing prices, too, so you won't break the bank for such a beautiful spread.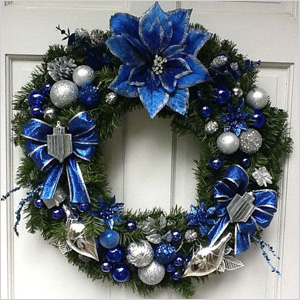 Etsy
Etsy is a great place to shop for one-of-a-kind decorations. With so many artists and crafters developing their own Hanukkah decorations, you'll be able to find unique decorations for your home. In fact, you'll probably spend way too much time browsing and find more than you need! One vender, Silk Florals by Candice, has this blue and silver Hanukkah wreath that we absolutely love. If you want a distinctive decoration style, we definitely suggest heading to Etsy this Hanukkah.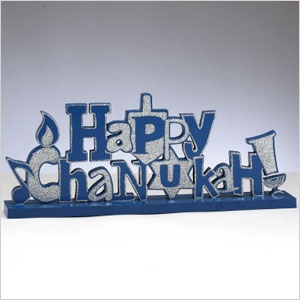 Traditions Jewish Gifts
Those who want to decorate in a more traditional way should head over to Traditions Jewish Gifts. This online store covers everything you need for a traditional Hanukkah celebration. You'll be able to find silly decorations for the children or elegant decorations for an adult celebration. Everything is also very reasonably priced so you can get more bang for your buck! We love this table decoration as a fun and festive centerpiece for your kitchen, but they've got many more Hanukkah decorations to look through.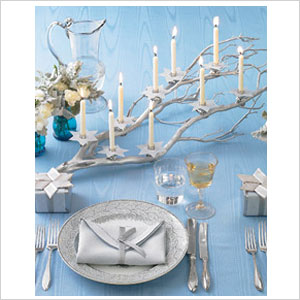 Martha Stewart
If you're more of a DIY-er, head over to Martha Stewart's website for some great ideas on decoration ideas that you can make yourself. The name can be a little intimidating, but all of her Hanukkah decoration projects are fairly simple and the end product is stunning. Try your hand at this Candlelit Branch with Star of David Ribbon. The best part is all your decorations will be individualized for you and your family. We'd love to hear how your decorations turned out!
More Hanukkah decoration ideas
Hanukkah table decorating
How to host the ultimate Hanukkah party
Your holiday guide to Hanukkah