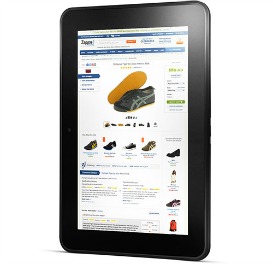 Product Review
Hot or Cold?
Amazon just lowered the price of Kindle Fire HD 8.9" in the US, with the Wi-Fi version now starting at $269 and the 4G version starting at $399. But is this do-it-all device as hot as it claims? SheKnows put it to the test!
What it promises
According to Amazon, Kindle Fire HD 8.9" is the highest-resolution, largest-display Kindle Fire. Designed for entertainment, it offers easy access to the web, apps, movies, games and magazines. Among the advertised features :
A large 8.9-inch display with the highest resolution of any Kindle Fire; ideal for movies, apps, and gaming.
Custom Dolby audio and dual stereo speakers.
More than 23 million movies, TV shows, songs, magazines, books, and audiobooks.
The most popular apps and games.
Ultra-fast web browsing and streaming with built-in dual-band, dual-antenna Wi-Fi.
Front-facing HD camera for taking photos or making video calls.
Ten hours of battery life.
Easy-to-use email, calendar, and contacts.
New Amazon-exclusive features like X-Ray for Movies, X-Ray for Textbooks, Immersion Reading, Whispersync for Voice and Whispersync for Games.
Kindle FreeTime, a free, personalized tablet experience for kids. Parents can set daily screen limits and give access to appropriate content for each child.
Amazon apps available on the largest number of platforms so customers can use their Amazon content on any of their devices.
How it held up
The Kindle Fire comes with a USB charging cord and turn-on instructions packaged in a sleek black box. Its higher resolution offers a striking visual improvement, with super-vivid colors. The new sound quality is a big bonus for video lovers and audio book lovers. The Fire Wi-Fi connection didn't surpass the lightning speed of its competitor iPad, but the processor is faster than previous versions.
Once powered up, the home screen displays a carousel of recently purchased items. Some critics argue the home screen is a bit boring, but it's designed to drive users to the Amazon store. I found the obvious sales tactic to be beneficial, since it nudged me to read more and surf the web less for mindless entertainment. The device automatically links to your Amazon account, enabling one-click purchase, a shopping feature that could be dangerous for the impulse buyer (like me).
One of the more talked-about features is the X-Ray tool for books, textbooks and movies. It enables readers to essentially highlight a word, phrase or character to get more information on it. In a Kindle book, for example, you could easily scan for recipes only containing ricotta or tomatoes. I can see how college students could easily use this feature to morph hefty e-textbooks into digital Cliff Notes.
But users can really get the most out of their Kindles with a Prime membership, providing instant access to a growing list of streaming movies and shows and a lending library. Each Fire comes with a free one-month membership, so you can try out the service before spending 80 bucks a year.
This device also gets major brownie points for moms with its ability to set custom profiles for children (the NOOK tablet has this feature as well).
The bottom line
I did not think another tablet could match the capabilities of my beloved iPad but the Kindle comes remarkably close, at a fraction of the cost. For those wanting a handy and smart Wi-Fi tablet on a budget, this is a clear finalist. Aside from making speed and design as top priorities, tech experts suggest choosing a device based on your preference for apps. If you are an iTunes lover, iPad is your gadget. If you are a bookworm, the Kindle is your best friend, with the NOOK tagging along behind it. I have yet to try Microsoft Surface.
More on shopping
Sexy gifts for him
Nail tools you need to buy now
Stylish business attire for alpha women