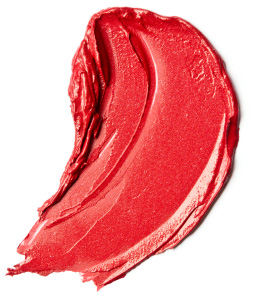 Our favorite red lipsticks
ready for
date night
Add a little pop to your pucker with these classic red lipsticks from some of our favorite brands.
Are you warm or cool?
One thing to remember when choosing the perfect red, whether for your work wardrobe or a fancy addition to a cocktail dress, is to choose a shade of red that matches your skin tone — warm or cool. There are endless shades of reds, and your unique skin tone can make all the difference.
Test it out
One way to decipher if your skin tone is warmer or cooler is if gold or silver looks better on you. If you're a golden girl,  you most likely have a warm skin tone; if you look best in silver, you most likely have a cool skin tone. You can also try the wrist method. Go outside into natural light and look at the veins in your wrist. If they appear blue, you have a cool skin tone. If they appear olive, you have a warm skin tone.
Warmer shades include undertones of orange and yellow, cooler shades have blue and purple notes. Once you find which suit you best, you will be able to pick your perfect hue. These lipsticks are mostly neutral, meaning they will look great on warm and cool skin tones.
1
Rouge Allure

Simple and classic, a must-have red lipstick in the arsenal of lipsticks by Chanel, the epitome of modern class. (Chanel, $34)
2
Calypso

Bobbi Brown was inspired to create this shade along with the rest of her line during Fashion Week, for lasting looks that won't budge for eight hours. (Bobbi Brown, $24)
3
Scarlet Rouge

Scarlet Rouge includes natural ingredients like soja seed extract, Brazilian murumuru butter and chamomilla flower oil. Chic yet subtle, this shade adds color to a post-work date night. (Tom Ford, $48)
4
Color Design in Red Haute

This bold shade of lipstick hardly needs an introduction. With Lancome as its maker, you know it's sure to be moisturizing and long-lasting (not to mention affordable). (Lancome, $22)
5
Lipstick in Mac Red

MAC products were originally created for theater makeup, so it's no wonder this show-stopping lipstick is bright and bold enough to withstand the spotlight you'll receive at any gathering. (MAC, $15)
6
Pure Matte Lipstick in Vesuvio


This matte-finished lip color is also enriched with vitamin E and acai oil for added benefits from antioxidants. (NARS, $25)
7
Rouge Cream Lipstick in Classic Bright Red

At this price, you can buy two shades of this lipstick line to play up your lips throughout the day or night. (Sephora, $12)
8
Classic Cream
Lipstick in Fire

Dolce & Gabbana is no newbie to the game of lip color. Their new classic cream lipstick line dresses to impress with this shade, Fire, as a top choice. (Dolce & Gabbana, $30)
More on shopping
Don't let a salesman take advantage of you
Bridal beauty essentials on a budget
Shopping tips and tricks from Brad Goreski