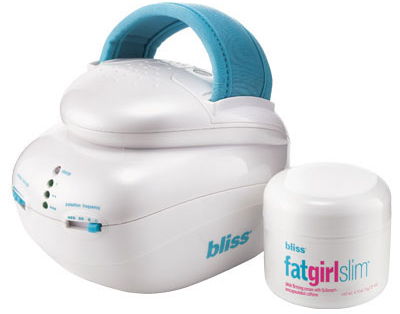 product review
Skin smoother
Fatgirlslim massager by Bliss promises to visibly reduce the appearance of cellulite. But is a smoother, sleeker-looking silhouette really possible? SheKnows puts the Lean Machine to the test!


What it promises
According to Bliss, the Fatgirlslim Lean Machine ($145) visibly reduces the appearance of cellulite and gives legs, buttocks and abs a more contoured look. The set contains a Lean Machine, power adapter and a 2-ounce jar of Fatgirlslim skin-firming lotion.
Bliss says the device combats cellulite in four ways: 
Lifting function stimulates skin and gently guides it into the vacuum unit.
Adjustable vacuum setting creates a deeply penetrating massage that encourages circulation.
Rear roller gently smooths out the skin.
Pulsing action creates repetitive motion to intensify the massaging effect.
To use, follow these steps:
Apply a thin layer of Fatgirlslim lotion to the desired treatment area.
Get into a comfortable position for your massage treatment.
Turn the suction strength dial to a low setting and switch the device to position 1.
Start moving the device in a circular motion over legs or stomach to promote circulation.
How it held up
My main reason for using this device is to help tighten up those sagging abs in preparation for bathing-suit season or a tropical vacation. I wouldn't use it for the winter months because I cover up those areas.
The device takes some getting used to, because of the awkward vacuum sensation. It was hard for me to measure the results right away, but I did feel that instant tightening feeling from using the lotion. I do believe boosting circulation has many benefits and can give skin that smoother appearance.
The bottom line
Bliss recommends using the system a few minutes every day. Bliss shows off some before and after photos of results obtained after eight weeks of use. For those who are really bothered by cellulite or sagging skin, this product may give good results as well as boost overall body image confidence.
It's important to note it is not a weight or fat loss product. Look at before after photos.
Getting rid of hair
12 Ways to prepare for a wax
How to wax your face at home
Hair removal: Methods, techniques and costs