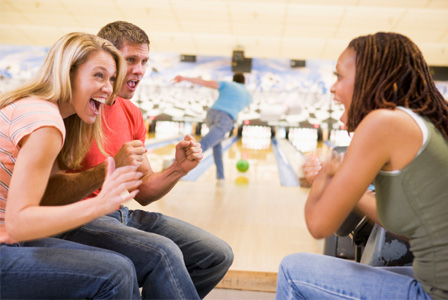 You don't need to spend big bucks on a fancy meal and pricey champagne this New Year's Eve. Think outside the box and go big on fun without a big price tag.
Celebrate the
New Year on a budget
Ready to make the most of New Year's Eve without dropping a load of cash? Try these six fun ideas that let you ring in the New Year on a budget.
1
Go bowling with friends
Even if you end up buying a few pitchers of beer, bowling is easy on the wallet. Call your local lanes and find out what festivities are scheduled for New Year's Eve. Many bowling alleys offer holiday specials like unlimited bowling and free shoe rental. Dress casually and embrace friendly and silly competition with your friends over some fried food, cold beer and loud Top 40 music.
2
Host your own party
When you celebrate New Year's Eve at your place, you set the rules and the price tag. Work with a reasonable budget and throw a party that focuses on fun, not luxury. Try footing the bill on booze and asking friends to bring finger food and appetizers. Set up a viewing area for the New Year's Eve countdown on TV and use existing entertainment like karaoke video games and group board games to amp up the fun. Ask your local liquor store about inexpensive sparkling wine instead of pricey champagne for your guests.
3
Attend a street festival
Hit your local scene for a cheap or free night out this New Year's Eve. Check with your local arts district or downtown business bureau to get a schedule of events. On New Year's Eve, you'll find live music and vendors at free or low-cost festivals and street fairs. Wear comfortable shoes, dress for the weather and get ready to people-watch as your community rings in the New Year.
4
Share a table of tapas
Want to enjoy a big, festive meal without a headache of a bill? Go in with your friends on a night of tapas. Tapas, or small plates, often run you less than $10 each. Order a variety and enjoy tasty finger food and plenty of lively conversation over a shared meal. Don't forget to add a zesty pitcher of sangria for a traditional sweet and savory night of good food.
5
Pack up a picnic
If your celebration style is more laid-back than late-night, spend New Year's Eve enjoying an early-evening picnic before things get too crazy. Cook a meal at home or pick up prepared food at a gourmet grocer. Pack a reasonably priced bottle of wine, plenty of napkins and a comfortable blanket. Hit a local park or public area to celebrate New Year's over a quiet meal. You'll get home with plenty of time to relax and watch the festivities on your television.
6
View a local
fireworks display
Nothing sparkles like a big public fireworks display. Bundle up and head out to see your local fireworks show this New Year's Eve. Check local media outlets to get the skinny on where to park and where to find the best view. Pack some snacks and a travel mug of hot cocoa or spiced apple cider to keep you warm while you watch the sky light up with color and light to celebrate the New Year.
More celebrating
How to host a spring roll dinner party
5 US cities with the best New Year's Eve parties
Top hotels for a hip New Year's away from home